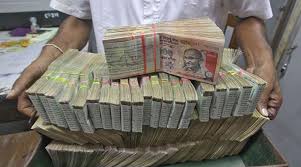 PM Strikes:
From midnight today, till November 10, ATMs will not function. Banks will be closed for public transactions tomorrow.
Five hundred and 1,000 rupee notes ceased to be legal tender from midnight on Tuesday. Prime Minister Narendra Modi made the announcement in a surprise address to the nation on Tuesday night. He said the decision was taken to root out the menace of black money and corruption. Notes of 100, 50, 20, 10, five, two and one rupee remain legal tender and will be unaffected by the decision, the Prime Minister said, adding that all banks and ATMs will be closed on Wednesday and ATMs in some places on Thursday as well.
Mr. Modi announced that existing Rs. 500 or Rs. 1,000 notes can be deposited in an individual's bank or post office accounts between November 10 and December 30. Currency value of up to Rs. 4,000 can be exchanged from any bank or post office per day till November 24 by showing a government identity card.
However, for 72 hours, government hospitals, railway, air and government bus ticket booking counters will continue to accept the old notes. Old notes will also be accepted till November 11 at petrol, diesel and gas stations authorised by public sector oil companies, consumer co-operative stores authorised by State or Central government, milk booths authorised by States as well as crematoriums.
The Reserve Bank of India will issue new Rs. 500 and Rs. 2,000 notes starting from November 10. The new Rs. 500 note will feature the Red Fort and the new Rs. 2,000 note will feature Mangalyaan, Economic Affairs Secretary Shaktikanta Das said at a media briefing late on Tuesday night. These notes will become available from November 10.
Once the ATMs start functioning, there will be a withdrawal limit of Rs. 2,000 per debit card, which will be increased to Rs. 4,000 later, Mr. Modi said in a 40-minute televised address to the nation. There will, however, be an overall limit on withdrawal from banks of Rs. 10,000 per day and Rs. 20,000 per week, which will be increased in the coming days.

Keywords:Reserve Bank of India,Rs. 500 or Rs. 1,000 notes,Mr. Modi,Prime Minister,legal tender,booking counters,Prime Minister Narendra Modi made the announcement in a surprise .