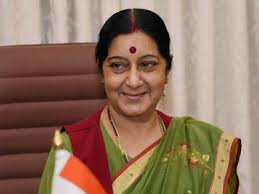 Bureau: Setting the stage for the next India-Russia summit meeting, the just-concluded Moscow visit by External Affairs Minister Sushma Swaraj began the much awaited talks on defence procurement and sensitive strategic cooperation. Official sources have told that a major part of Ms. Swaraj's visit was aimed at smoothening the way for the Inter Governmental Commission on Military Technical Cooperation (IRIGC-MTC), which will be led by Minister for Defence Manohar Parrikar from the Indian side.
Sources have indicated that Mr. Parrikar will go on a "stock-taking visit", which will assess the fifth generation fighter jet project, the S400 missile system, and naval co-production plans with Russia. The Sushma Swaraj-Sergey Lavrov meet in Moscow was an opportunity to discuss frankly stalled strategic issues.
"India's latest defence cooperation with Russia was a bit uneven due to the delay and steep rise in the price of Admiral Gorshkov, and due to problems with Russian spare parts. But now, the Russian military-industrial complex is in a better shape and can work with India more effectively to blend into the framework of 'Make in India'," said Commodore (Retd) C. Uday Bhaskar.
The Russian military industry has been turbulent in recent years, but is now showing signs of less volatility, which can serve India's interests better. "Russia has shared sensitive technology for India's nuclear submarine Arihant and has deserved the title of "tested and tried partner," Commodore (Retd) Uday Bhaskar said.
But going beyond the defence hardware co-production, the visits and the Modi-Putin summit will also reshape the greater strategic neighbourhood of India, says former ambassador Stobdan. "It's noteworthy that the Pakistani Prime Minister was visiting Washington DC and the Chinese President was being welcomed in London when Sushma Swaraj visited Moscow. It shows that India is willing to look into strategic requirements in fast-changing global circumstances," Dr Stobdan told The Hindu. "Russia is raising a new division for Afghanistan along the Tajik border to fight Islamic extremists of Af-Pak that are threatening the modern governments of Central Asia. Therefore, its partnership with Pakistan is not expected to last long and that is why India and Russia will work together in the Afghanistan region," Dr. Stobdan said.
According to James M. Dorsey of S. Rajarathnam School of International Studies, Singapore, the recent shocking losses under Taliban attack in Kunduz were a lesson for regional powers and India and Russia are expected to work together to stabilise Afghanistan in view of the American plans to stay back in Afghanistan beyond 2016. Russian President Vladimir Putin visited India in December 2014 for the annual summit, which was overshadowed by New Delhi's enthusiasm for the visit of U.S. President Barack Obama. Experts suggest that the changed geopolitical circumstances, especially Russian muscle-flexing in Syria, will add to the "Druzhba-Dosti" of the next India-Russia summit in Moscow.

keywords: Sushma Swaraj Moscow visit, India-Russia summit meeting, Inter Governmental Commission on Military Technical Cooperation, Manohar Parrikar.