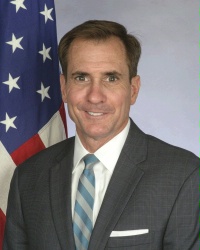 Washington: The United States on Wednesday said normalisation of India-Pakistan relations was vital not only for both countries but also for the entire region. State department spokesperson John Kirby said India and Pakistan "stood to benefit from practical cooperation," and the U.S. encouraged both India and Pakistan to engage in direct dialogue aimed at reducing tensions. "…steps that initiate closer regional trade and energy ties we believe will create jobs, lower inflation, and increase energy supply," he said.
Mr. Kirby was answering questions on a meeting between U.S. Secretary of State John Kerry and visiting Pakistan Prime Minister Nawaz Sharif. Pakistan had said it handed over to the U.S. evidence of India's involvement in insurgency in Balochistan but Mr. Kirby said he did not want to discuss specifics. Mr. Sharif will meet U.S. president Barack Obama on Thursday.
Mr. Kerry, according to Mr. Kirby, thanked Prime Minister Sharif for Pakistan's regional efforts to combat terrorism and violent extremism, "especially in bringing to justice al-Qaida leadership and disrupting terrorist plots." "Secretary Kerry recognized Pakistan's efforts and sacrifices in targeting extremists in Zarb-e-Azb and other operations in the Federally Administered Tribal Areas, and the two leaders discussed the need for additional efforts to target all terrorists in its territory," Mr. Kirby said.
The state department spokesperson said both leaders highlighted the multidimensional nature of the United States-Pakistan partnership and its importance for regional stability and security and U.S. decision to continue with the military presence in Afghanistan beyond 2016. "They….noted that an Afghan-led and Afghan-owned peace process is the surest way to end violence and ensure lasting stability in Afghanistan and in the region. The Secretary thanked Prime Minister Sharif for Pakistan's continued facilitation of reconciliation discussions between the democratically elected Afghan Government and members of the Taliban," Mr. Kirby said.

Keywords: India-Pakistan relations, Nawaz Sharif, John Kirby, U.S. advise, Prime Minister, Barack Obama.